Why. Is. This. Acceptable?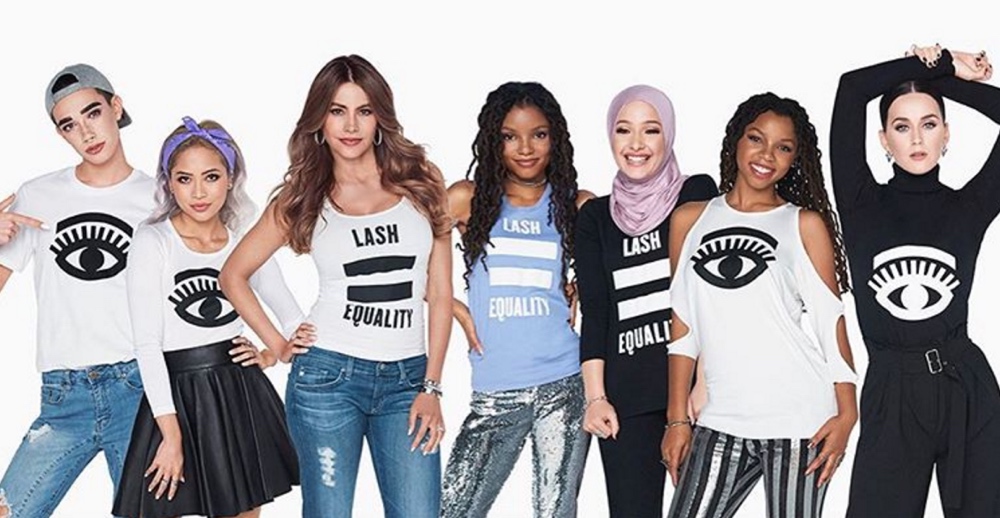 It was late one night a couple days ago, and my sister and I were up watching Full House. I never pay much attention to commercials, except to keep my radar out for inappropriate ones. I think I was looking at my phone or something, and I looked up to see a Covergirl makeup commercial. A guy appeared on the screen with heavy mascara and a high-pitched voice. He was the spokesperson.
I was disgusted. That a guy was demonstrating a new mascara for a CoverGIRL ad. As if he was a girl. Yuck. Seriously, y'all, even his tone of voice was squeaky and high-pitched and "feminine." Really. It was completely making a mockery of females. Treating women as if they are worth so little that they can be replaced by a man. Yet I'm sure it was celebrated and completely accepted by most people.
It makes women look so cheap. It degrades from your value as a human being. We live in a pretty rotten culture if a makeup commercial is demonstrated by a man pretending to be a woman. WHERE have we gone?
I truly don't understand it. I just don't. A passage in Romans comes to mind as I write this, and I'd like to share it with you.
'And just as they did not see fit to acknowledge God any longer, God gave them over to a depraved mind, to do those things which are not proper. Being filled with all unrighteousness, wickedness, greed, evil; full of envy, murder, strife, deceit, malice; they are gossips, slanderers, haters of God, insolent, arrogant, boastful, inventors of evil, disobedient to parents, without understanding, untrustworthy, unloving, unmerciful; and although they know the ordinance of God, that those who practice such things are worthy of death, they not only do the same, but also give hearty approval to those who practice them.
Romans 1:28-32
That is quite a list. What really sticks out to me are two parts. First, that God gave them over to a depraved mind. I think what that means is that God finally just 'let them have what they want,' so to speak. They were sinful and wanted to live in unrighteousness, so God allowed it. They weren't going to seek God any longer, and that just leads to a life of unrighteousness, wickedness, greed, evil, and so on. This is actually something my dad and I were talking about on the way to Walmart the other day. Y'all, it is so hard for me to wrap my brain around why some people think that same-sex marriage, abortion, etc., is okay. Why? If you are seeking Jesus, then you will grow and bear fruit and slowly become more and more like Him. I think that is why the idea of immorality is so horrifying to us, because it is so horrifying to God. Also, we see plenty of places in Scripture where it is strictly forbidden. So basically, if you are not seeking God, then sin is a free-for-all. There is nothing good in us anyhow, being born as sinners, and unless God changes our hearts, there never will be.
Secondly, that they not only do the same but give hearty approval to those who practice them. How often do we hear that you are judgmental and hateful if you call sin, sin? If you don't give hearty approval to immortality? Oh my goodness, you are just against them and you hate them and you're judging them.
No.
We all know those accusations aren't true. Yet even back in Biblical times the ones living in sin were super defensive if you disagreed with their lifestyle. The answer for us? We live in a sinful world. We all know that much. We aren't going to understand the thought process that leads some people to do what they do, because we aren't supposed to. Because God had a different plan for us.
So, going back to the beginning about the Covergirl commercial. Yes, it was wrong and disturbing. But honestly not all that surprising.